Latest Platinum news
The strikes in South Africa have come to a close in their fifth month with a deal that will see the lowest paid miners receive an increment in monthly pay. Postal Bullion see an increase in demand for Platinum in the UK. (PRWeb July 28, 2014) Read the full story at http://www.prweb.com/releases/2014/07/prweb12050765.htm
OKLAHOMA CITY, July 10, 2014 /PRNewswire-iReach/ -- APMEX, Inc., one of the nation's largest online precious metals companies, is now an Authorized Purchaser with the United States Mint to purchase gold and platinum bullion coins directly from the United States Mint. Photo -...
JOHANNESBURG (Reuters) - South African stocks booked a record close on Tuesday, rising 1 percent as higher metal prices lifted resource companies such as AngloGold Ashanti and Anglo American Platinum. Gold hit its highest since late March on Tuesday, helped by fresh signs of interest from investors in futures and bullion-backed funds, while platinum reached a ten-month high.[ID:L4N0PC28T ...
By Ed Stoddard WESTONARIA South Africa (Reuters) - South Africa's Sibanye Gold has been in talks with almost all of the major platinum producers in its quest to buy an asset in the sector this year and can easily raise the money to fund such a deal, its chief executive said on Friday. "We have been through the front doors of just about all the significant platinum companies," Neal Froneman told ...
An official at British platinum refiner Johnson Matthey has become chairman at the London Bullion Market Association as the industry body oversees the overhaul of century-old precious metals pricing systems amid intense regulatory scrutiny. The LBMA said in a statement that Grant Angwin, general manager at the U.S. operations of Johnson Matthey PLC in Salt Lake City, was elected to succeed David ...
Other Platinum news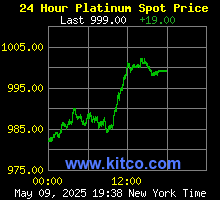 latest platinum New York spot prices
Spot prices (US$/ounce) for platinum group metals
SINGAPORE, July 28 (Reuters) - Gold slipped slightly on Monday due to a stronger dollar but held above $1,300 an ounce as its safe-haven appeal was burnished by heightened tensions between the West and Russia, and violence in the Middle East. FUNDAMENTALS * Spot gold dipped 0.2 percent to $1,305.45 an ounce by 0011 GMT, largely holding the previous session's 1.1 percent gain. The metal logged ...
* Eyes on Fed meeting outcome on Wednesday, Friday's payroll * Dollar near 6-month high, capping gold's potential rebound * Ukraine-Russia tensions, Israel-Palestine cut gold's losses (Updates to U.S. session; adds new trader comment, close in gold futures, NEW YORK to dateline, new byline) By Barani Krishnan and Clara Denina NEW YORK/LONDON, July 28 (Reuters) - Gold was little changed on Monday ...
By A. Ananthalakshmi SINGAPORE (Reuters) - Gold steadied after two days of losses on Wednesday but held below $1,300 an ounce, near a four-week low, on a stronger dollar and fears that the Federal Reserve could hike U.S. interest rates sooner than expected. Fed Chair Janet Yellen said on Tuesday the U.S. central bank could raise rates earlier or faster if hiring and wages take off in an ...
Gold rose on Wednesday, holding above $1,320 an ounce, after the U.S. Federal Reserve's latest meeting minutes did not suggest any hike in U.S. interest rates soon.
NEW YORK/LONDON (Reuters) - Gold hit a one-month low on Thursday after robust economic data from the United States, China and the euro zone deterred investors from safe-haven assets, even as tensions simmered in the Middle East and Ukraine. Prices for the yellow metal fell 1 percent to below $1,300 an ounce as the dollar and stock markets rose on surprisingly low weekly jobless claims and robust ...
Gold traded below the highest level in more than three months as investors assessed U.S. economic data that strengthened the dollar and boosted equities, damping demand for an alternative investment.
Prices for the yellow metal fell 1 percent to below $1,300 an ounce as the dollar and stock markets rose on surprisingly low weekly jobless claims and robust corporate earnings out of the United States. "To be fair, I think some people have a right to be disappointed that the stresses around the world haven't led to a continued rise in the price of gold," said Adam Hewison, president at ...

Gold news, charts and data | Silver news, charts and data | Copper, brass and bronze news, charts and data