Latest Platinum news
JOHANNESBURG (Reuters) - South African stocks retreated on Wednesday, led by platinum producers that were hit by data showing a sharp fall in Chinese imports of the precious metal, the latest blow for an industry struggling with depressed prices and rising costs. Mid-tier producer Aquarius Platinum fell more than 6 percent to around 3 rand, making it the session's second-biggest decliner ...
The London Metal Exchange will run the replacement for platinum and palladium fixings in London, after the daily silver benchmark was overhauled this year and as the price-setting ritual for gold is being revamped.
Bullion trader Pankajkumar Chimanlal Lodhai admits to black money, skips Swiss account
"We clearly have aspirations to be in the platinum business, but it will be here in Zimbabwe, we wouldn't want to get involved in South Africa," Metallon Corp. founder and Chief Executive Officer Mzi Khumalo said in an Oct. 9 interview in Harare, the capital.
Gold dropped for a fifth day in the longest losing streak since August before Federal Reserve policy makers begin a two-day meeting at which they are expected to end a bond-buying program. Silver, platinum and palladium fell.
Other Platinum news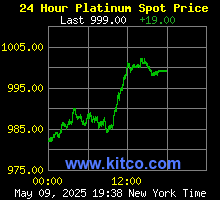 latest platinum New York spot prices
Spot prices (US$/ounce) for platinum group metals
Gold and silver slumped to their lowest since 2010 on Friday as the dollar and stock markets soared following a new round of quantitative easing by the Bank of Japan and data showing a robust U.S. Spot gold slid 3 percent to its lowest since July 2010 at $1,161.25 an ounce in earlier trade and was down 2.8 percent at $1,164.64 by 1344 GMT. "Spot gold is at its lowest for four years ... and it ...
Gold remained vulnerable on Monday above a 15-month low touched earlier in the day as the dollar stayed near four-year highs, dampening appetite for bullion and pushing silver and platinum to multi-year lows.
Gold tumbled this week to a four-year low and many other commodities also faltered, as the dollar rebounded after the Federal Reserve ended its quantitative easing stimulus. The European single currency slid on Friday to $1.2486, its lowest level since August 2012.
Platinum dropped to the lowest in more than a week in London, falling below the price of gold for the first time since April 2013, on concern that slowing economic growth will curb demand.
* Dollar highest since June 2010 * SPDR holdings drop to six-year low * US retail gold, silver coin demand pick up (Updates to add graphic, prices) By Frank Tang and Clara Denina NEW YORK/LONDON, Oct 31 (Reuters) - Gold and silver sank to their lowest since 2010 on Friday as the dollar surged against the yen and other major currencies after the Bank of Japan shocked global financial markets by ...
* Gold drops over 2 pct, silver down 3 pct * Dollar at near four-week high * SPDR holdings drop to six-year low (Adds comments and dollar strength, updates prices) By A. Ananthalakshmi SINGAPORE, Oct 31 (Reuters) - Gold and silver slumped to their lowest since 2010 on Friday, as robust U.S. economic data and a stronger dollar pressured prices, with stop-loss orders accelerating the metals ...
By Clara Denina LONDON (Reuters) - Gold touched its lowest level in more than 15 months on Monday as the dollar held near four-year highs and European shares advanced after strong U.S. jobs data, dampening ...

Gold news, charts and data | Silver news, charts and data | Copper, brass and bronze news, charts and data